Manman - July 27th, 2022
How do Beginners Use Yoga Straps?
How do beginners use yoga straps? Let's get down to business and dive right in!
【1. Open Shoulders With a Yoga Stretching Strap】
A yoga stretching strap can bridge the gap between your hands in the shoulder opening poses like Gomukhasana or Cow Face Pose. The yoga strap use creates a connection between the hands to energize the arms.
Steps
Sit or stand comfortably.

Grab a yoga stretching strap with your right hand, reach up, bend down, and hang it around your right shoulder.

Hold onto the yoga stretching strap with both hands.

Slowly walk your hands closer towards each other along the belt to feel the nice stretch in your right shoulder.

Exit and switch sides.
【2. Stretch Hamstrings With a Yoga Stretching Strap】
Longing for improve the flexibility of your legs? Try Seated Forward Fold. The yoga stretching strap allows for freedom in your hamstrings and extension in your spine in this pose.
Steps
Sit with legs extended forward.

Loop the strap around your feet, keep the back straight.

Gradually deepen the stretch of your legs by walking your hands towards the feet along the strap.

With each exhalation, fold deeper without hurting the hamstrings.

Stay for at least 5 deep breaths and then inhale come up.
【3. Open and Strengthen Shoulders With a Yoga Stretching Strap】
What pose stretches and strengthens your shoulders at the same time? Dolphin Pose it is! It also opens the hamstrings, calves and ankles. However, most of us carry tension in our shoulders and upper back, so this is where a yoga stretching strap comes in handy.
Steps
Loop the yoga stretching strap around your upper arms so that arms are shoulder width apart. D rings are away from your flesh for comfort.

From a Table Top position, bend your elbows, hands as wide as your elbows or fingers interlaced.

Tuck your toes under and use the core to bring your hips up.

Stay here for at least 5 breaths and then release from it.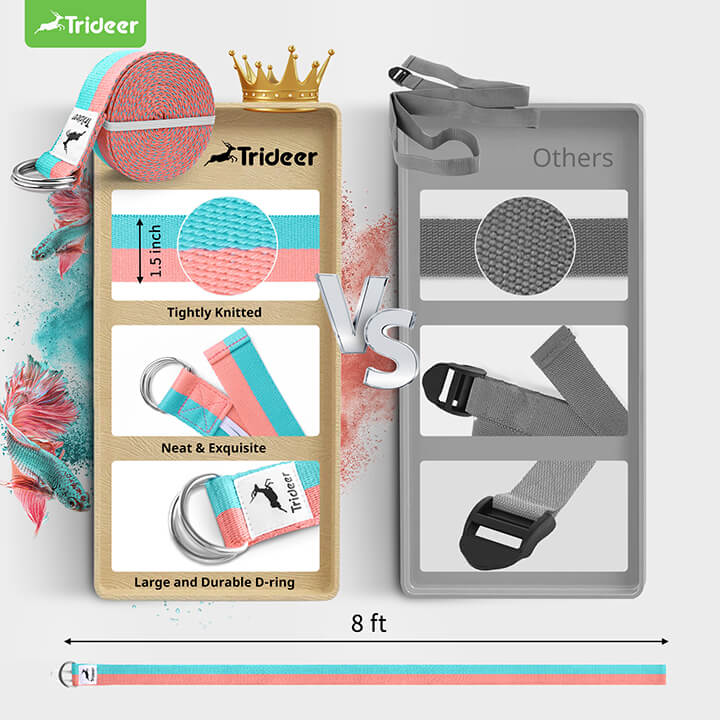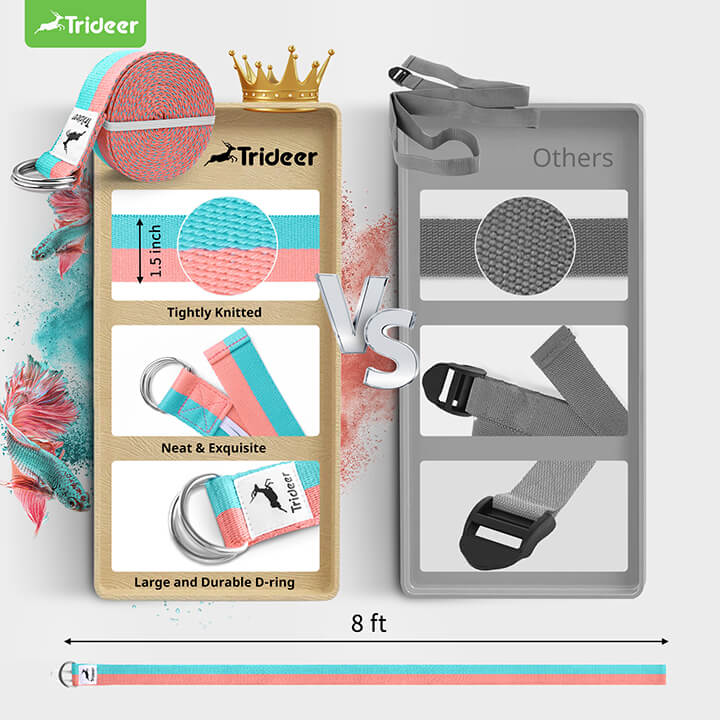 Trideer Exercise Ball Extra Thick Anti Burst Yoga Ball with a Variety of Colors Optional
$19.99
The above is just the tip of the iceberg of the answers to How do beginners use yoga straps? Be sure to take the guide of a certified yoga instructor to use the yoga stretching strap to advance your practice. Take the advantage of the yoga strap use to expand your range and achieve more challenging yoga postures!